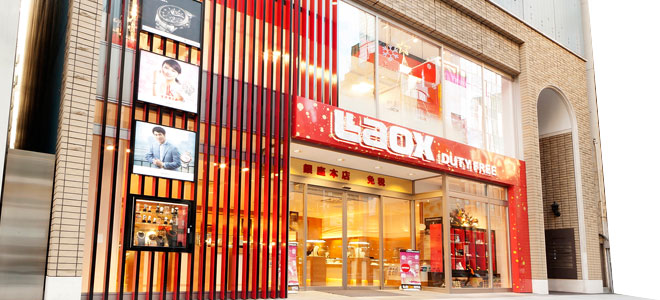 The Heart of Japanese Hospitality is in Ginza
Ginza is the world famous shopping town which Japan proudly presents. Located in this area that has both an ancient history and enterprising spirit, we will embody the Japanese spirit of hospitality – Omotenashi – for our customers from around the world.
Our first point would be in providing our customers with Japanese products of high credibility. Our Nambu ironware section, the best in Japan, gets attention not only from non-Japanese, but also from Japanese customers. Our second point would be to provide multilingual specialists for our customers to ensure that they have a satisfying experience. Of course, these specialists are not limited to inquiries about our store and products – please feel free to ask us about any sight-seeing spots or popular areas in Ginza or Tokyo. The third point is our store design that features the taste of Modern Japanese. With Japan's traditional color of scarlet red contrasted with jet black, we hope to impress the eyes of those who visit. On Ginza's main street, let us welcome you with traditional Japanese façade. We sincerely looking forward to serving you.
◆This store is equipped with foreign currency exchange machines.
Currency list: US dollar, Euro, Chinese Yuan, South Korean Wong, Thai Baht, Australian Dollar, Taiwan New Dollar, Hong Kong Dollar.
SHOP Information

Laox stores have been certified by JNTO as Tourist Information Centers

Laox's Akihabara Main Store and Ginza Main Store have been certified by JNTO (Japan National Tourist Organization) as Tourist Information Centers.
The concierge counter at Ginza Main Store offers service in English, Chinese and Japanese. We provide information on the surrounding area and show you the way to the tourist spots you want to visit.
We also have tourist maps on hand, so please feel free to drop in and ask any questions.