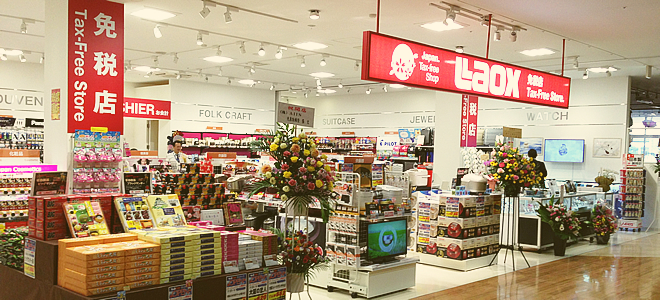 Directly connected to RINKU Town Station: Fun, Happy shopping!
RINKU town, the giant complex with direct access to the Kansai International Airport, consists of commercial facilities, hotels, and entertainment centers, and is quite convenient to drop by, before departing from or after arriving at the airport. At Rinku Pleasure Town Seacle, one of the commercial facilities, you can enjoy everything from a Ferris wheel to a hot spring to shopping to fabulous meals. Located on the second floor of this facility, LAOX RINKU SEACLE STORE offers courteous and multilingual customer service and a wide range of tax-free products, including
electric appliances designed for overseas use, articles of folk craft, watches, jewelry, foods and others. There is something for everyone, like fascinating souvenirs and must-have-items for overseas travel.