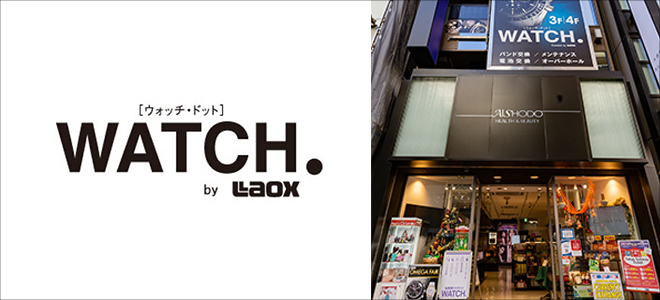 Only two specialty stores in the Laox chain, to meet diverse customer needs
On the first floor is AISHODO, which carries cosmetics and health foods made in Japan. Professional advice is offered to select the best product for each customer.
We have a wide variety of products on the second floor from drugstore cosmetics, to hair-care & beauty appliances such as facial massagers, to baby goods such as baby bottles, to folk craft items such as so called "beckoning cats" that are very popular among foreign customers, and to foods and sweets including those available for limited-time only.
Watch-specialty store WATCH. occupies the third and fourth floor. On display here are watches from both foreign brands and Japanese brands including SEIKO, CITIZEN, CASIO, ORIENT, casual watches, and watch accessories like bands. A special counter manned by experts is dedicated to repair and maintenance, making sure our customers enjoy perfect after-sales service. You will definitely find your dream watch here.
* Jewelry specialty store CHOW TAI FOOK has moved to Laox Shinjuku Main Store