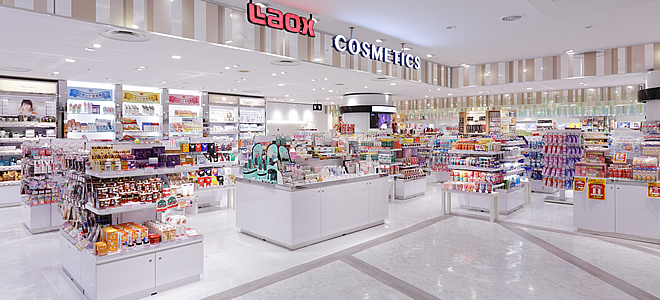 Adjacent to Shinsaibashi Station! In one of the busiest shopping areas in Osaka
Shinsaibashi is one of the most famous commercial areas in Osaka. Laox Daimaru Shinsaibashi store is located on the 5th floor of the South Wing of Daimaru Shinsaibashi department store, which has the largest sales floor in the Kansai area (77,000㎡: the main building, North and South Wings combined). In order to introduce high-quality, Made-in-Japan products to many foreign customers, we have an extensive product lineup from home appliances for overseas use to jewelry, cosmetics, craftworks and others. Multilingual sales staff will always be there to help and satisfy our customers from abroad as well as from Japan, with the spirit of Japanese hospitality.
Not only does Daimaru Shinsaibashi department store offer anything you want, from fashion items to books and baby goods but also houses excellent cafes and restaurants. It is also quite conveniently located, with easy access to Shinsaibashi subway station.