How tax-free shopping works in Japan
In Japan, displaying your passport at any store that offers tax exemption will allow you to purchase goods without the 8% consumption tax.
Payment methods

methods A
Show your passport upon purchasing the goods, and pay the price minus the consumption tax.
methods B
Pay the consumption tax upon purchasing the goods, then show your receipt, passport and other necessary documents at a separate service counter to get a refund (may be subject to a service charge).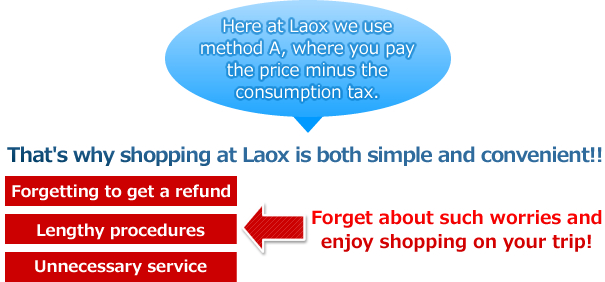 Who can benefit?

All temporary visitors (less than six months stay in Japan) such as foreign tourists. Japanese nationals who live overseas and plan to do so for two years or more may benefit if they are visiting Japan temporarily.

Items that qualify for tax-exemption

To be eligible, your purchase must exceed 5,000 yen on items that qualify for tax-exemption, bought at the same store on the same day.
What you need

You must have your passport (or a crew member's landing permit ) on you (photocopies are not accepted).

Stores that offer tax-free services

Stores that display the TAX-FREE SHOP logo.
The details

Store staff will make up a tax-exemption form (a document called "Covenant of Purchaser of Consumption Tax-Exempt of Ultimate Export" ). You must sign this form, paste the second page of the form (Record of Purchase of Consumption Tax-Exempt for Export ) into your passport, and get it stamped by store staff. Customs will collect this Record of Purchase from your passport when you leave Japan with your item.