Excellent products made in Japan, beautiful memories of Japan
In the Inbound Business, we serve both excellent products and beautiful memories to those who visit Japan. Through our network of general tax free stores across Japan, we offer a wide assortment of products such as cosmetics, household products, electric home appliances, and health foods that satisfy ever changing customer needs. We are eagerly looking forward to helping our customers with various services from a simple and easy tax-free payment system to multilingual customer service to consultation in selecting cosmetics.
Main business areas
・Domestic tax-free retail business centered around our network of general tax-free stores, one of the largest in Japan
・Online retailing to domestic consumers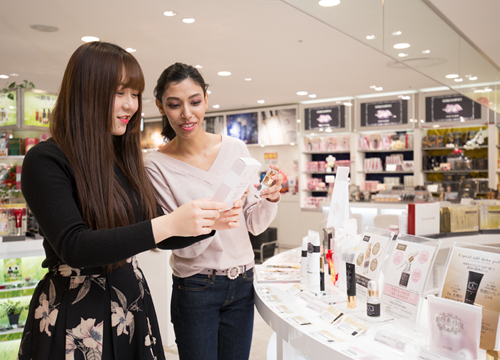 Our prospects: the goal we will achieve
We aim to offer the Japanese hospitality to people around the world before, during, and after their trip to the country.