Japan's Tax-Free system has changed!
2014.10.01 【Revision of the Tax-Free system】
The Tax-Free system for foreign tourists was revised on Oct. 1st, 2014. Now foreigners can buy consumables (medicines, cosmetics, foods and others), which had been subject to 8% consumption tax until September, without paying the tax.
Who can benefit?:
All temporary visitors (less than six months stay in Japan) such as foreign tourists. Japanese nationals who live overseas and plan to do so for two years or more may benefit if they are visiting Japan temporarily.
What you need:
You must have your passport (or a crew member's landing permit ) on you (photocopies are not accepted).
Items that qualify for tax-exemption:
The total purchase of consumables must be over 5,000 yen and 500,000 yen or less, at one store, for the day.
Stores that offer tax-free services
Stores that display the TAX-FREE SHOP logo.
The products must not be consumed in Japan but be brought overseas.
Consumables purchased tax-free are packed in a colorless, transparent bag which is then completely sealed. The goods inside must not be eaten or used. If you open the package, you will have to pay the tax.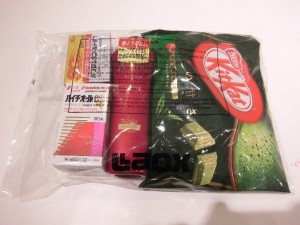 Tax-free consumables are packed this way.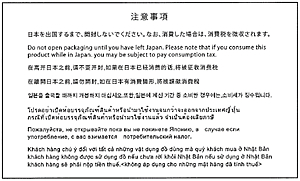 The above warning is printed on the bag.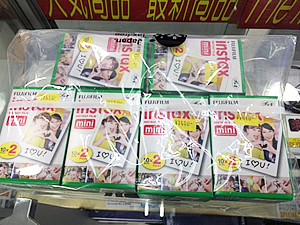 The packed consumables must be brought out of Japan in this condition.

Once the package is opened, the word "OPENED" will appear and it will be impossible to reseal the bag.